Technical info on NOAA 18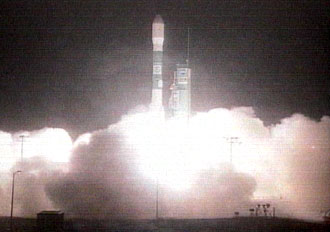 The north American NOAA-18 satellite has a low orbit of the polar type, resulting in a period of about 102 minutes. The combination of altitude and the orbit's inclination results in a sun-synchronous orbit: this makes the satellite pass over the same places on earth at the same hour of the day.
NOAA-18 was launched on May 20th, 2005 at 02:22 UTC. It contains a large number of scientific experiments, of which only the meteorological part is of easy use. NOAA-18 was launched with the intention of having an 'afternoon'-satellite, with passes in between NOAA-17 and -12 and -15.
Though the satellite registers images in 5 spectral bands, from visible light to infrarred, the complete information is only available over the high speeds SHF downlink (HRPT on 1690 MHz). The simpler APT doenlink, designed for low-budget reception, is only capable of transmitting two of the 5 spectral bands, and at about 1/4 of the original resolution.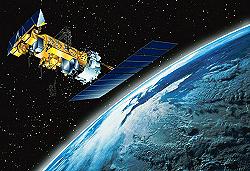 NOAA-18 is a member of the TIROS family of satellites.
First images
| | |
| --- | --- |
| | First complete image received here, one day after launch. This is a rare occasion, as the spacecraft normally sends other spectral bands, which do not permit the combination to represent vegetation. |
| | Both images separately, contrast enhanced. If you don't detect the difference at first, check the lake at the right border of each image. |
Audio
One line of APT audio::


Spec sheet for NOAA-18
Description
Value
Unit
Launch
2005/05/20


Name before launch
NOAA-M


Actual name
NOAA-18


NASA ID
28654


Approx altitude
872
km
Orbit inclination
98.78
degrees
Period of the orbit
102
min
APT frecuencies
137.9125
137.10
MHz
HRPT frecuencias
1698
1707
MHz
Beacon
137.35
137.77
MHz